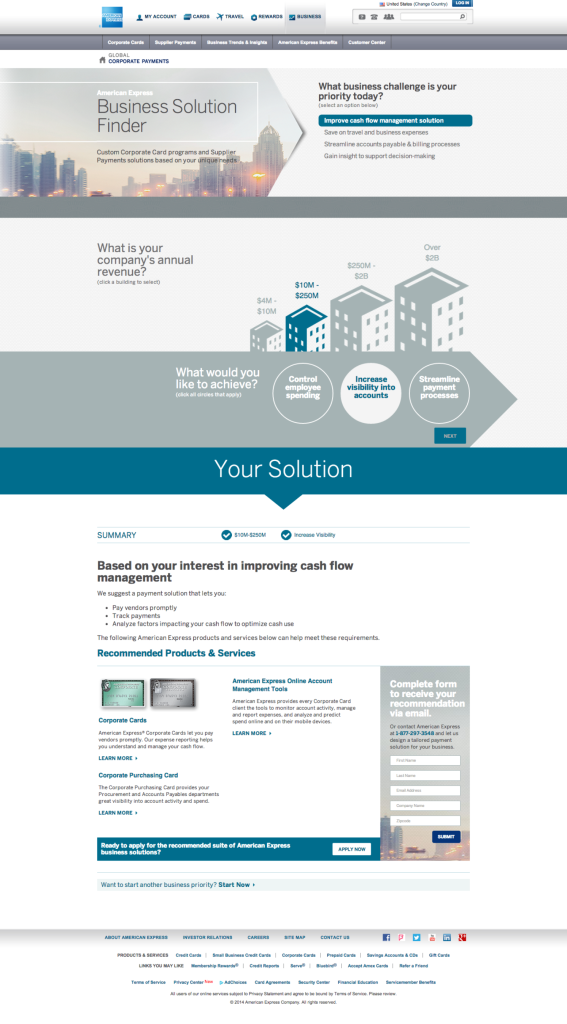 Challenge:
American Express(R) is known for its iconic charge cards but few knew that the world's largest card issuer provided more than cards. The Corporate Card division of American Express introduced several new and complex products  and services as a way of growing its relationships with enterprise and mid-sized clients.
American Express Corporate Cards needed a way to explain and grow adoption of its Supplier Payments Solutions.
Strategy:
American Express cards are recognized by all and their value proposition is fairly simple–we're not the cheapest or the easiest to get but rich rewards (e.g. travel points, priority access to event tickets, and status) accrue to our card members.
Our Approach: Leverage the recognizability and reputation of the cards to introduce and grow adoption of new products and services and make the rewards of adding these new products and services as simple to understand as American Express' other rewards.
My Role in The Solution:
I developed a "Business Solution Finder", a simple interactive tool that focused on WHY customers might need one or more of AMEX's Supplier Payment Solutions not describing WHAT the solutions were. The tool is part of the business.americanexpress.com website.
I developed the questions and workflow and then designed the experience: The customer identifies their business need and answers a few questions about their business to reveal the solutions that can meet their needs.
I also developed the interaction flows, initial prototype (see below), wrote all copy, and provided creative direction to the visual designers who designed final images, icons, and other assets.
Results:
AMEX significantly grew adoption of its Supplier Payment Solutions.