Experience design. User Experience Design (UX). Interaction Design (IxD). User Interface (UI). Human-Centered Design. Human Factors Engineering…By any name the practice is both table stakes and transformative.
Every project, product, and interaction between a brand and its consumers and customers can benefit from an investment in the practice of experience design.
So here's what I mean when I talk about experience design.
Ex-per-i-ence De-sign
The practice of designing products, services, processes, events, and environments with a focus placed on the quality of the user experience and the relevance of solutions.
The Role of Experience Designer
Create and direct user research to define users and UX success criteria and ensure all projects are driven by user needs and business outcomes
Partner with visual and product designers, product managers, content strategists, engineers, and QA to ensure that teams produce highly usable/valuable/feasible products aligned with user needs and perceptions
Passionately advocate for the end user
Generate deliverables including research reports, personas, scenarios, conceptual models, site maps, functional flows, and annotated wireframes
The Work
Building a Business by Deepening Developer Relations
Want to exponentially grow the usage and reach of your product? You could go it alone and build one app, one bot, one solution at a time—or you could enlist the capable minds and hands of a motivated community of developers whose interests align with yours. That's exactly what my client, the head of IT for a large health IT organization, decided to do when he found that his software and the services that he and his team designed for his healthcare and IT clients were not meeting adoption and usage targets and were being outpaced by lesser solutions with better marketing. I designed the interface and experience for a developers' portal where app developers can research, test, download, and buy APIs and SaaS products—and share and collaborate with other developers. The portal and the accompanying developer relations campaign that my team and I developed grew adoption and usage by allowing developers to self-serve, test, ask questions, and use the portal's analytics dashboard to track the health of their apps powered by our APIs.

Framing Up A New Experience for American Express Corporate Cards
I don't always use "the right tools" for designing an experience–but it doesn't matter as long as I can convey the idea, how it meets user and business needs, and how it works!
Over the years, I've honed my own methods like creating "fat frames"–wireframes with just a bit more meat on the bone to provide clients a higher fidelity prototype of their sites, apps, and other experiences. Here are the "fat frames" I used to help American Express redesign the online experience for their corporate business prospects.
See how my "fat frames" contributed to the redesigned American Express Corporate Cards experience.
Coaching WebMD Customers to Better Health
Again, I employed tools that were familiar and accessible to the client. I mean, everyone can work in PowerPoint!
This time I wasn't designing a website; I was designing a digital health assistant that would help users stop smoking, lose weight or manage a chronic condition.
See how we used a bit of "magic" to bring a bunch of articles, calculators, tags, and alerts to life!
Kendall Jackson's Perfect Pairing: Content Strategy & CMS
With Kendall Jackson, we developed content and functionality matrices to design online experiences for the wine distributors portfolio of more than 30 wines. See the results of our work with Kendall Jackson parent, Jackson Family Enterprises (JFE).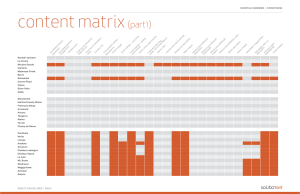 A Walk On The Wellness Side With Kaiser Permanente
Kaiser Permanente is committed to preventive care for better health. I prototyped a mobile iOS app that allowed the health care organization's employees to link their wearable fitness devices and share their activity data.
See how Kaiser Permanente employees fared with their new fitness app.
Imagining Care Anywhere With Kaiser Permanente
Kaiser Permanente wanted to share its vision of the future of health care with clinicians, health IT professionals, and others in the health care and consumer health industries–and get these insiders' input and partnership on brining that vision to fruition.  I designed a solution that was mini but mighty. Check it out!